❄ Refreshing and bringing families together ❄

DOGCOOLIO™ - FOLDABLE SWIMMING POOL
FOR YOUR DOGS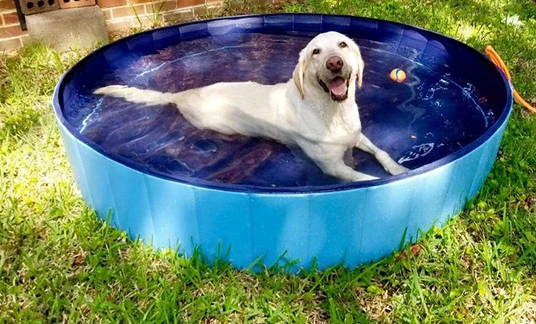 Bring your pets the best experience you've always wanted!
Have you ever thought that you should thank your dog for all the selfless love and friendship he keeps giving you? We know you do! This summer is the perfect time to show some appreciation for your pet.

✔ DURABLE: Made of extra-tough and anti-scratch PVC material.

✔ PORTABLE: Can be folded up in a small size, easy to store and bring with you and your dog everywhere.

✔ SIMPLE: No need for inflation, set up in no time. The dog bathtub comes with a plastic drainage valve at the lower position
1.Unfold: Unfold the dog pool as shown in the video.

2.Fill: Fill the pool with water and add some toys for the cute guy.

3.Drain: After having fun, use the plastic drainage valve at the lower position to drain out all the water.
4.Fold: Fold the pool as shown in the video and carry it whereever you want.

My dog is 110 pounds and is 15 years old. It's easy for him to get in, which has been a problem in the past with the larger hard plastic blue pools from Walmart due to his age, sometimes it's difficult to step over the pool edge, he had no problem getting in this one. Maybe it was the excitement of a new pool, but he did it. My nephew, who is 9 actually set this up for me, so it's easy to set up. Came in a plastic bag (kinda like a comforter). So glad I decided to purchase this. Highly recommend!
My dog's favorite part of summer
We had the pool out every day last summer (changed the water 2x per week) . There have been no punctures of any sort or any issues at all with these pools, and my dog can play pretty rough at times. These pools are literally my dogs' favorite part of summer... I can't keep him out of them! As soon as we get back from a walk, he jump right in!
My senior 98 pound Golden Retriever LOVES his new pool! It's the best day he's had in months when we filled it with water and toys for the first time!
FREQUENTLY ASKED QUESTIONS
Where do your products come from?
We only source merchandise from socially responsible businesses with ethical manufacturing practices. Our branded products are manufactured in the United States, UK & China.
When will I receive the products?

We ship the products within 2 business day (Mon-Fri), a timeline which does not include Weekends or Holidays. Products will be delivered to you within 5-14 days. Note: There might be unexpected delay due to the current covid situation
What if I am not satisfied with the product?

If you are not satisfied with the product, we offer a 30 day money back guarantee. You can send an email to us in that case: support@dogcoolio.com
Is this dog pool durable?
Yes of course!. The product is made of extra-tough and anti-scratch PVC material. We use 0.58cm high-strength fiberboard, which is the thickest in the market. The non-slip bottom design makes your pet safer while bathing. EN71, CE, EPA standard.
What payment methods do you accept?

We accept PayPal & all major Credit Cards
You can contact us via the contact form below or chat with us (Click on the green chat icon on the right bottom part of your screen).